There is this whole movement that no one takes care of mama after baby is born-They just hand you this little bowling ball and send you on your way. I want to rewind a little bit and throw out there that maybe mama is not taken care of from the beginning or maybe she does not take time to care for her own sacred space. We as women are gifted with this amazing and beautiful gift of self sacrificing. This bitter sweet servant hood of caring for others to see them thrive all while sacrificing our time or needs. Is it because we feel that we do not deserve it? Is it a cultural or societal pressure? Is it a lack of support? Or, maybe it is just what brings us joy. Throughout my professional & personal life I have seen mamas burnt out, tired, and missing the activities they love to do outside of parenting. I thought about this in much greater depth and I would like to share with you how I think we can change this. I want us to have an unregrettable "sacred space," all while feeling confident in the time with our littles. More over I want you to feel strong in pregnancy, and learn the strategies I wish I had known almost 2 decades ago.
I want to start by sharing how I struggled with caring for myself before my first baby. I had this sweet boy 16 years ago. I was nervous on the inside but put up a strong front on the outside. I trusted in my care providers to help me through the process of being a growing mama. Surely they would help me in the delivery room and if not that wonderful epidural would? Right?-I remember a different story emerged. One that isn't as beautiful as I had hoped. During labor I remember lying on my side as the surges moved through my core and transferred throughout my body. The only relief I had was rubbing my head over and over with this wash cloth to help ease the discomfort I was fearing would only get worse. The contraction machine warned me of the surge before I would begin to feel it (seriously can they not silence that thing?). When it was time for baby I had had an epidural and needed to be coached to push on my back resulting in an unapproved episiotomy and trauma to my girlie parts.
What I did not know to do:
I did not have movement in my daily routine
I did not nourish myself (because pregnancy excuses right?)
I did not even know I could educate myself for better pregnancy, birth, and 4th trimester outcomes.
Fast forward several years later and pregnancy, birth, and postpartum care became my passion. I desired and KNEW there has to be a better option for me and for other mamas. I also knew that labor was LITERALLY like running a 5K (okay I know they say marathon, but it depends on your perspective). I saw birth and pregnancy as completely different. The process was a challenge to my body. I needed to prepare physically and mentally for it. I had pain in the past pregnancies and I wanted to prevent or alleviate the severity of this. I had experienced trauma in the past and I wanted to reduce the chance that this would occur again. Keeping in mind the experiences I had and hearing stories from other mamas I trained for the exciting event.
Top 3 things I did to prepare my body and those of my mamas for birth:
Find a sacred time to prepare.
Movement everyday-even if it was 5-10 min of gentle stretching or mindful breathing.
Education both personally & professionally to learn how to prepare for pregnancy changes, labor, and delivery so that there was less impact to my body & those of my clients.
During the 3rd trimester it can become difficult to transition. In addition, during the last few hours of labor and delivery your lower half (core-legs) can become tired from surges and movements changes. If there is ONE thing you can do to start preparing your body it is to add strengthening to your upper body. Everyone talks about how squats are essential, but rarely do I see anyone talk about strengthening your arms. Your body will be dependent on having strong arms. Upper body strength will help you to transition and hold delivery positions that will protect your pelvic floor and core. BONUS-when you are healing and your tummy and lady parts are sore having strong arms will help you with getting out of bed, and aide in caring for baby.
One of the most simple ways to add arm strengthening into your day is wall push-ups. Before you try this I want to explain how the pelvic floor naturally moves with breath (see this article). As you inhale the diaphragm descends the abdominals relax and the pelvic floor eccentrically elongates. As you exhale the pelvic floor lifts, tummy muscles engage, and the diaphragm lifts. We are now going to capitalize on this system and apply these principles to a simple wall push up.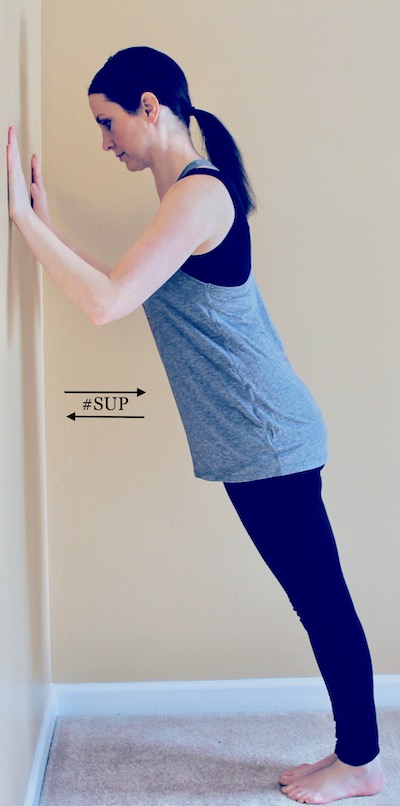 Now, tune into your core or pelvic floor and then say the word "set," or "sup." You may feel your abdominals contract or your pelvic floor lift naturally.
Before you proceed with the push up say "set" or "sup" one time. Once you have "tuned" into the core contraction maintain that tension and breathe steadily as you do 10-20 push ups.
---
The results of my training throughout pregnancy aided in my own personal reduction of low back pain, pain in the front of my pelvis, and a much faster recovery. My midwife was giving me a hard time because I was moving so much from how good I felt. I also had less trauma to my girlie parts.
A client told me how it was easier for her to transition from lying to sitting when she needed to move in labor. These daily practices eased the surges and aided in her to have less overall tension during labor and delivery. She was also able to hold herself upright in a 1/2 kneel position to deliver her baby with no pelvic floor trauma. Finally she said her recovery was less painful, and faster than her previous births.
Mama I want to share this with you because taking 5-10 min in your day to mindfully strengthen your body and tune into how it functions can make a huge difference in the outcomes of your pregnancy, labor, delivery, and 4th trimester. Research shows us that women who exercise have shorter labor and deliveries as well 1Barakat, Ruben et al. "Exercise during pregnancy is associated with a shorter duration of labor. A randomized clinical trial." European Journal of Obstetrics and Gynecology and Reproductive Biology, Volume 224, 33 – 402Rodríguez-Blanque, Raquel et al. "Physical activity during pregnancy and its influence on delivery time: a randomized clinical trial." PeerJ vol. 7 e6370. 7 Feb. 2019, doi:10.7717/peerj.6370!
A major point I want to stress is for you to establish a short routine for your sacred time in pregnancy. You can reflect and ask yourself, "What worked before?" and, "Who will support me so that I can have my sacred time?" Establishing routines before the babe can help us to continue to keep routines (even if they are only 1-2 times a week) for the future and be a healthier and happier mama for our sweet babes. Mama if you are able to have one sacred time a week celebrate that!
Maybe you do not feel deserving of that time…I certainly did not in the beginning. Now it is required for me to mommy and feel a sense of self worth. It is an intricate MUST for me and the mother's I work with to manage their stress, to feel vibrant, and to celebrate who they are. Girls the old saying is, "If we can not give to ourselves then we certainly can not give to our family." Remember if you really want to commit and it is not happening you have to work through the barrier of unregrettable self worthiness to get there.
---
What are other steps I can help you to learn to prepare for the new babe?
Well rounded movement routine.
Labor & Delivery positions to help reduce pelvic floor trauma.
Labor & Delivery positions for mamas with chronic or acute pain.
Movements to help make room for baby to be in optimal position and help your pelvis be balanced before birth.
Prepare your core unit (pelvic floor and deep abdominals) to support you in pregnancy, labor, and delivery.
Learn how to breath baby out-check out this research 3Edqvist, Malin et al. "Midwives' Management during the Second Stage of Labor in Relation to Second-Degree Tears-An Experimental Study." Birth (Berkeley, Calif.) vol. 44,1 (2017): 86-94. doi:10.1111/birt.12267.
Education on pelvic floor muscle or perineal massage that is right for you.
Establish healthy strategies to have better 4th trimester recovery.
Healthy strategies are taught to reduce impact to the core unit that may protect your body from diastasis recti, prolapse, and other postpartum concern.
Unique plan designed for you.
Let's work together to help you learn what I WISH I knew 16 years ago with my first baby. Schedule a complimentary phone consultation to tell me your story and learn more about how I can help you.
Dr. Rach
References

⇧

1
Barakat, Ruben et al. "Exercise during pregnancy is associated with a shorter duration of labor. A randomized clinical trial." European Journal of Obstetrics and Gynecology and Reproductive Biology, Volume 224, 33 – 40

⇧

2
Rodríguez-Blanque, Raquel et al. "Physical activity during pregnancy and its influence on delivery time: a randomized clinical trial." PeerJ vol. 7 e6370. 7 Feb. 2019, doi:10.7717/peerj.6370

⇧

3
Edqvist, Malin et al. "Midwives' Management during the Second Stage of Labor in Relation to Second-Degree Tears-An Experimental Study." Birth (Berkeley, Calif.) vol. 44,1 (2017): 86-94. doi:10.1111/birt.12267