All I can "shout" is HIP SQUEEZES and heel squeezes. My hubby and midwives would provide this touch as my labor progressed and contractions became stronger. I would even provide them to myself. I liked my squeezes provided in two different ways, so let me divulge a bit. The female pelvis has very distinct landmarks called the anterior superior iliac spine (ASIS). It is here that I loved firm and confident pressure during later stage surges.  Essentially, this manual technique drastically reduces the intense contractions experienced during the later stage of labor. Hip squeezes help push the ilia together which helps relieve pressure on the sacroiliac joint.
There is also a physiological affect that happens from having physical touch in labor called the Gate Theory. Touch in the form of pressure (large nerve fibers) will be sensed by the brain and the pain signal (smaller nerve fibers) will be impeded. It is kind of like when you stub your toe then immediately rub your toe and it feels better. The brain is interpreting the larger sensation and the pain signal is reduced. Noordenbos, et al. suggested, "large fibers normally inhibit the effects of small fibers…that the balance between the large and small fiber input was a major factor in determining the painfulness of a stimulus." 1Noordenbos, W. Pain. Elsevier, Amsterdam; 1959. 2Mendell L. Constructing and Deconstructing the Gate Theory of Pain. Pain. 2014; 155(2): 210–216.
Touch during labor has been shown to decrease muscle tension, provide reassurance, reduce anxiety, enhances a women's sense of control, distracts a mama from pain, and decreases blood pressure in labor. 3Simkin P, Bolding A. PT Update on Nonpharmacologic Approaches to Relieve Labor Pain and Prevent Suffering. JMWH. 2004; 489-504. When mama is provided labor support she is less likely to experience the need of pain medication during labor, has a 26% decreased chance of a cesarean birth, and was 41% less likely to have instrumental deliveries. 4Hodnett E, Gates S, Hofmeyr G, Sakala C. Continuous support for women during childbirth In The Cochrane Library.Oxford. 2003; (3). 5Maternity Center Association. What every pregnant women needs to know about cesarean section. New York: Maternity Center Association, 2004.
The literature on hip squeezes suggests the following steps: 6https://intermountainhealthcare.org/ext/Dcmnt?ncid=525038326 7Adams E, Bianchi A. A Practical Approach to Labor Support. JOGNN. 2008; (37):106-115.
1) Mama is standing, kneeling, or leaning over a bed (I used a birth ball, birth tub, or couch).
2) Place your hands on the iliac crest and gluteal muscles, and finger tips pointing to midline.
3) Provide pressure toward the sacrum, or moving hands toward each other, throughout the contraction.
I recommend using this manual technique to hip squeezes in early labor when baby is approaching the inlet. During this time, the ilia open outward and the sacral base moves backward or counter nutates to allow baby to enter the pelvis. This manual technique will encourage the opening of the inlet and reduce sensation of pain or intensity from contractions.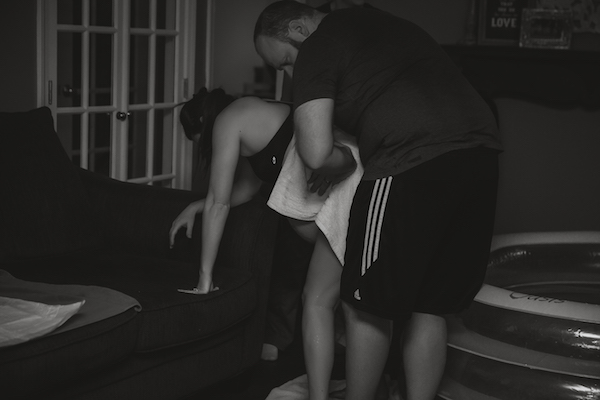 When the baby is approaching the outlet the ilia move inward & lower, the sacrum will nutate (bow), moving the tailbone out of the way, and the ischial tuberosities (sit bones) will move outward. Consider changing the counter pressure to more anteriorly on the ASIS and direct the squeeze anteriorly/medially toward the abdomen. This will cause a bit of gapping in the sacroiliac joint and cause a subtle shift of the sit bones outward. You can then cue mama to internally rotate her hips to further enhance the spreading of the sit bones and further increase the outlet (see above picture).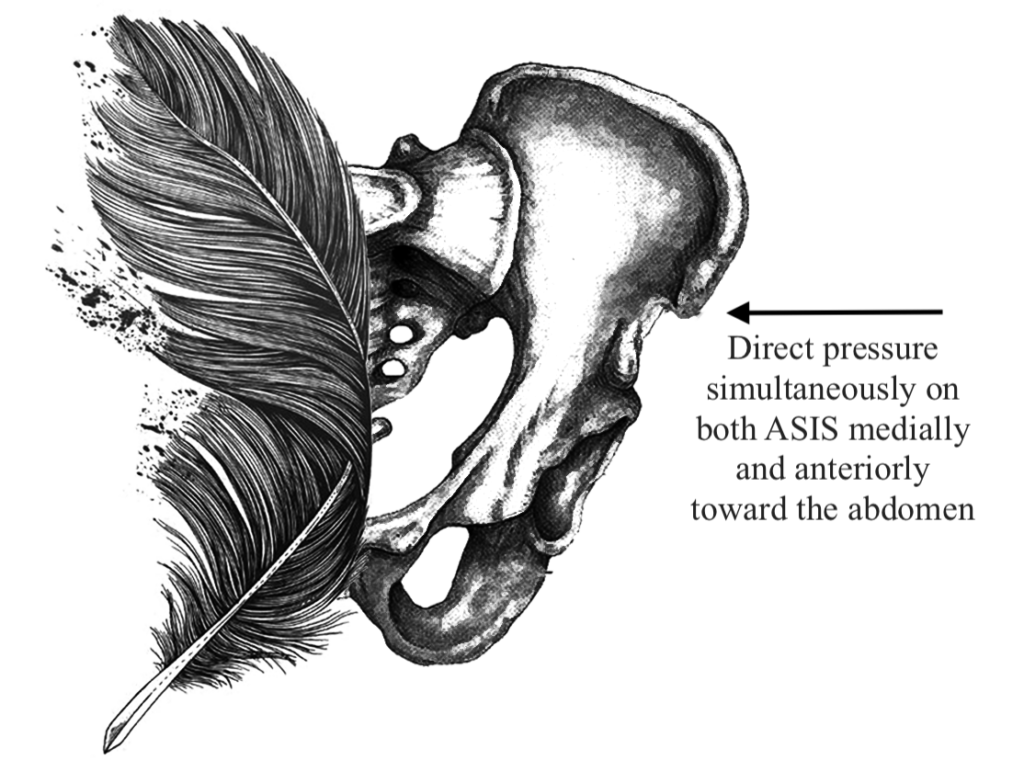 These techniques can be very tiring to the provider. If hip squeezes are the mama's source of pain relief there may need to be multiple providers to alternate providing this care.
Mama will communicate what feels best for her. I personally enjoyed the compression on my ASIS to alleviate the intensity of the surges during my deliveries.
I would love feedback on what has helped your clients. Do you ever change your manual techniques to augment the movement patterns of the pelvis in labor?
**Before using the hip squeezes speak with your midwife or physician on what is best for you and your baby. Hip squeezes can be performed when mama is progressing well, baby is aligned well, and has healthy heart tones.
Dr. Rachael xoxo
If you want to learn more on how I can support you during your pregnancy journey set up a discover visit today!
| | | |
| --- | --- | --- |
| 1. | ⇧ | Noordenbos, W. Pain. Elsevier, Amsterdam; 1959. |
| 2. | ⇧ | Mendell L. Constructing and Deconstructing the Gate Theory of Pain. Pain. 2014; 155(2): 210–216. |
| 3. | ⇧ | Simkin P, Bolding A. PT Update on Nonpharmacologic Approaches to Relieve Labor Pain and Prevent Suffering. JMWH. 2004; 489-504. |
| 4. | ⇧ | Hodnett E, Gates S, Hofmeyr G, Sakala C. Continuous support for women during childbirth In The Cochrane Library.Oxford. 2003; (3). |
| 5. | ⇧ | Maternity Center Association. What every pregnant women needs to know about cesarean section. New York: Maternity Center Association, 2004. |
| 6. | ⇧ | https://intermountainhealthcare.org/ext/Dcmnt?ncid=525038326 |
| 7. | ⇧ | Adams E, Bianchi A. A Practical Approach to Labor Support. JOGNN. 2008; (37):106-115. |