One of my most favorite things to do is run. When I was in grade school I was the fastest kid (no, not just girl, KID) in my class. Until my guy friends reached massive heights with longer legs senior year, I smoked them. I use to wear this shirt that said something like, "I don't chase boys, I leave them in the dust!" So silly. Ask anyone from my school and they would say she was fast or that chick can fly. I did not have a running program at my small school, sadly, but I did get to use this gift in sports-basketball, soccer, and fast pitch soft ball.
Fast forward several years later I have babies now. My run felt like it sucked. I feel like my toddler could catch me in a full on sprint. What happened? Are my glory days gone? The feeling like I am Rocky climbing the stairs with my arms held high was not there anymore. The feeling like I was flying now felt like someone was holding me back with a resistance trainer. I felt like I am the mom giving other moms, with the same look (as I felt), the three finger salute from Hunger Games. Any other mamas relate?
I have had several clients tell me that they are now scared to run. I can totally relate as I just confessed to my past physical feelings. A quick scan of the web can be scary for postpartum mama. So ladies lets change this. I am going to give you a few steps to transition into your running plan or to add to your current plan. First what happens? Why do you feel this way?
Here are a few changes of your posture in pregnancy:
*Your spine and pelvic girdle will become more mobile. The lumbar spine lordosis (arch in your low back) can increase 50 degrees at term!1Whitcome, K. K., Shapiro, L. J., & Lieberman, D. E. (2007). Fetal load and the evolution of lumbar lordosis in bipedal hominins. Nature, 450(7172), 1075–1078.
*Your diaphragm will elevate "up to" 4 cm due to the growing baby.2Decherney, A., Nathan, L., Goodwin, T., & Laufer, N. (Eds.). (2007). Current diagnosis & treatment obstetrics & gynecology (10th ed.). New York: McGraw-Hill.'3Jensen, D., Webb, K., Wolfe, L., & O'Donnell D. (2007). Effects of human pregnancy and advancing gestation on respiratory discomfort during exercise. Respiratory Physiology & Neurobiology, 156(1), 85–93.
*Your gait and balance may change to more of a waddle as a result of a weight shift more posterior on your heels, a decreased step length, and an increased step width. The change in gait patterns were observed to not return till 6 months postpartum! 4Opala-Berdzik, A., Bacik, B., Cieślińska‐Świder, J., Plewa, M., & Gajewska, M. (2010). The Influence of pregnancy on the location of the center of gravity in standing position. Journal of Human Kinetics, 26, 5–11.'5Blaszczyk, J. W., Opala-Berdzik, A., & Plewa, M. (2016). Adaptive changes in spatiotemporal gait characteristics in women during pregnancy. Gait & Posture, 43, 160–164. doi: 10.1016/j.gaitpost.2015.09.016
*Your tummy muscles stretch and diastasis recti may occur.
After pregnancy your body may still be in these positions! I see many ladies with varying postural misalignments, such as arching in their back as if they are still carrying baby in their belly! Then a load is applied, such as a run, and leaking, and/or pain may occur, or balance, strength, and/or agility decrease. The body has an amazing ability to reconnect with a little TLC and some guidance of a women's health physical therapist.
Top 5 tips for return to run to leave "that feeling" in the DUST:
Core strength: Your core strength is essential to the stability of the pelvic girdle during running. Did you know your core consist of your diaphragm, pelvic floor, abdominals, and back muscles? Core strength begins with connecting to your breath to the core muscles and then adding movement to challenge this system. Try this exercise: Inhale then exhale lift your pelvic floor and zip up your core. Then lift and lower your bottom on the exhale.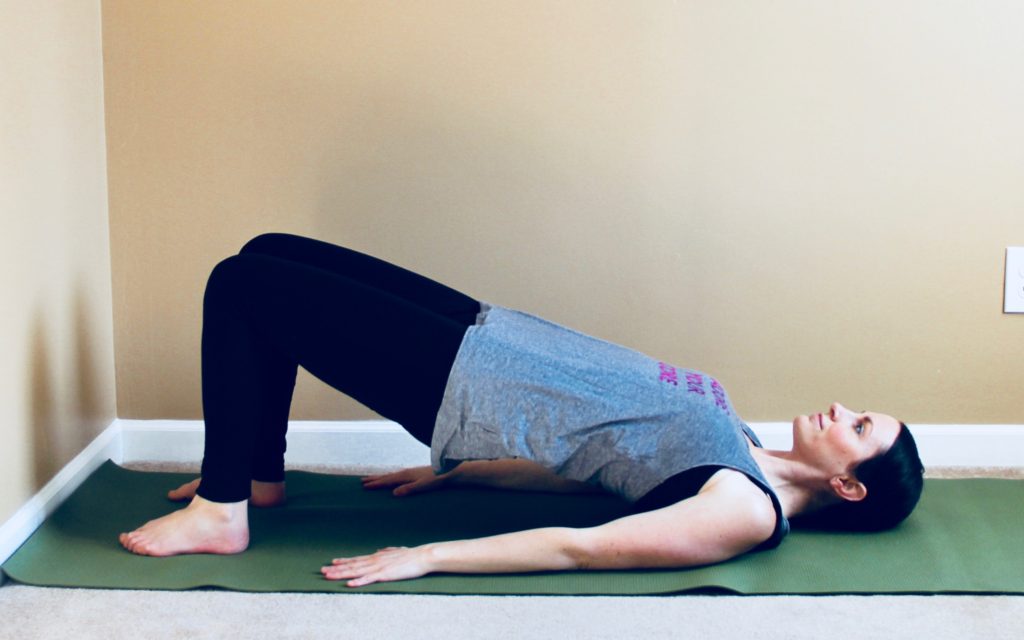 Balance: Remember all the changes to the body's posture? This also changes your body's awareness of position in space or proprioception. Add simple ladder drills to your routine to work on feedback to your brain. These agility drills are a prep for returning to or improving your run. As you become better at the drills you can increase the speed at which you do them.
Glut Strength: Strength in the gluteal muscles is a major player in pelvic floor health as well as over all core health. When these gals are happy then you will feel a huge difference in your run as your pelvis and hip will have greater stability. Add multi-plane lunges and/or squat exercise.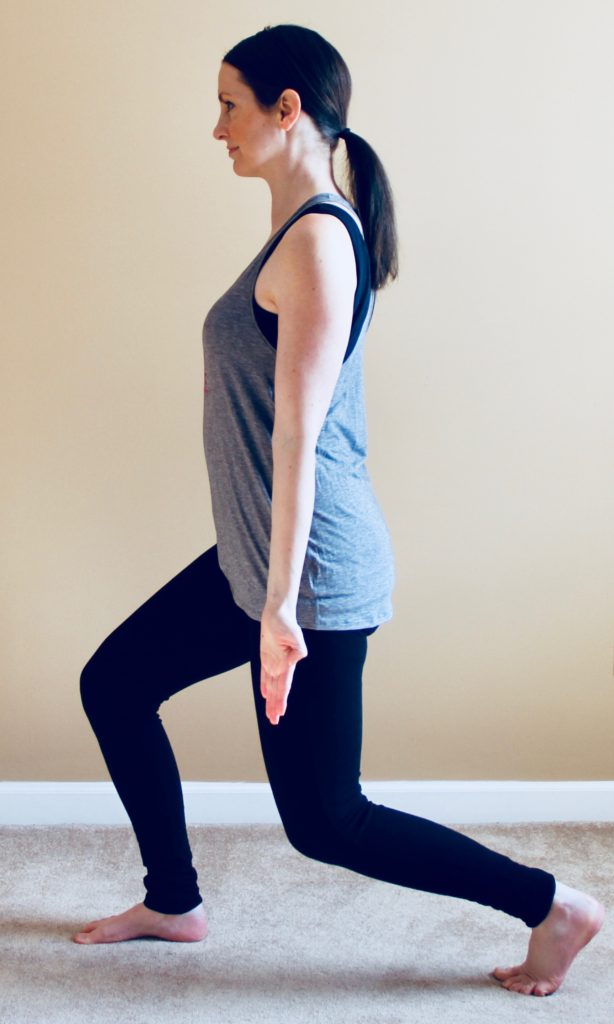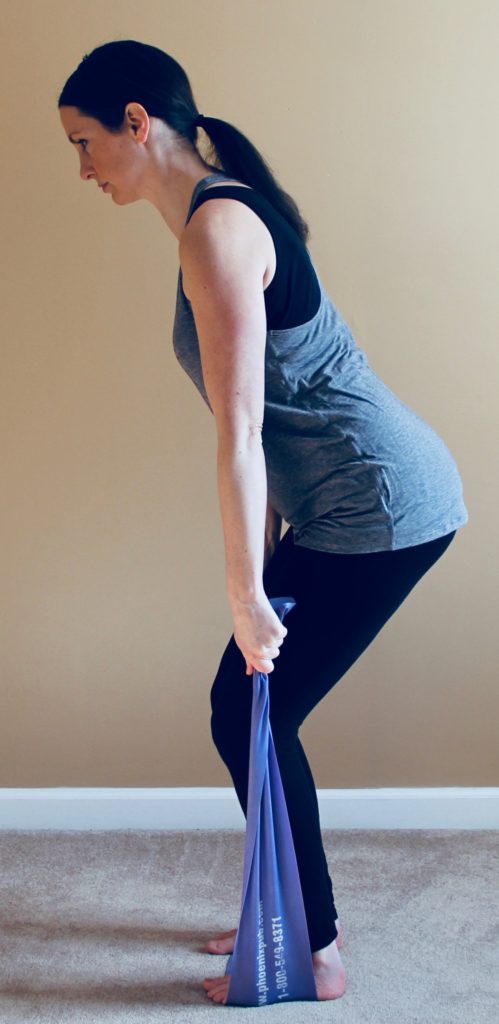 Time: Recovery can 1-2 years after having a baby. Allow yourself grace and also consider adding strength training to your routine. Working gradually into your run is an awesome place to start. Start with walking for 2 min and then add a light jog or quick walk for 30 seconds to one min. Then over time pick up the length of time you are quick walking or jogging and reduce the slower walk cadence. The RunCadence Mobile app is a great way to measure your speed and will help keep you at a nice pace whether walking or running.
Women's health physical therapist: I love to work with athletic mamas. It is so exciting to watch a mama's form while she moves, assess her alignment (especially the pelvis), and gait. Then a thorough and personalize program to help her return to her sport is designed with her. If you are unsure where to start, want to get stronger for your run, and/or experience any leaking, pelvic floor pressure, or pain while running please come and see me!
There are so many more approaches to working on preparing for running after baby. Let's work together to design your program.
If you would like one on one help with any of the above exercises or a program specifically geared toward your return to run or sport please connect with me. Dr. Rach xoxo
References

⇧

1
Whitcome, K. K., Shapiro, L. J., & Lieberman, D. E. (2007). Fetal load and the evolution of lumbar lordosis in bipedal hominins. Nature, 450(7172), 1075–1078.

⇧

2
Decherney, A., Nathan, L., Goodwin, T., & Laufer, N. (Eds.). (2007). Current diagnosis & treatment obstetrics & gynecology (10th ed.). New York: McGraw-Hill.

⇧

3
Jensen, D., Webb, K., Wolfe, L., & O'Donnell D. (2007). Effects of human pregnancy and advancing gestation on respiratory discomfort during exercise. Respiratory Physiology & Neurobiology, 156(1), 85–93.

⇧

4
Opala-Berdzik, A., Bacik, B., Cieślińska‐Świder, J., Plewa, M., & Gajewska, M. (2010). The Influence of pregnancy on the location of the center of gravity in standing position. Journal of Human Kinetics, 26, 5–11.

⇧

5
Blaszczyk, J. W., Opala-Berdzik, A., & Plewa, M. (2016). Adaptive changes in spatiotemporal gait characteristics in women during pregnancy. Gait & Posture, 43, 160–164. doi: 10.1016/j.gaitpost.2015.09.016